This course is delivered onsite for groups of up to 12 delegates Having designated Fire Marshal | Fire Warden at work is an essential part of fire safety. The fire marshal | fire warden work together with the employer to ensure that fire safety measures and evacuation procedures are in place and effective. This course […]
Info & Booking Enquiry
---
This course is delivered onsite for groups of up to 12 delegates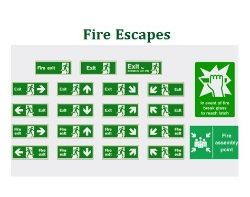 Having designated Fire Marshal | Fire Warden at work is an essential part of fire safety. The fire marshal | fire warden work together with the employer to ensure that fire safety measures and evacuation procedures are in place and effective.
This course will provide delegates with the necessary training and skills required to be a qualified fire marshal | warden. It educates you about what your and your employer's legal duties are, will provide you with an understanding of fire, familiarise you with fire hazards and fire safety procedures, and outline what your emergency evacuation procedures should entail. With the information delivered on this course, staff will be fully prepared to fulfil their role to enable them to take responsibility for fire safety in the workplace and guarantee your's and everyone's wellbeing.
This course is accredited and approved by the UK Fire Association and delivered by an accredited training professional. 
Course Content
Legislation (The fire safety measures that need to be in place)

The Chemistry of Fire and how it starts

Most Common causes of fire at work

The role of the fire marshal | fire warden

Short video: The role of a Fire Marshal

Good Housekeeping: Ensure negligent housekeeping does not pose a fire risk

Evacuation procedures: Clear and in place

Fire Classification: Class A / B / C / D / Electrical Fires / Class F

Know your Fire Extinguishers:

Quiz round:

Short question and answer session

Delegates opportunity to extinguish fires on our gas simulator shown below

Using Water & Carbon dioxide Fire Extinguishers
Course Assessment and Certification
Assessment: There is no formal assessment although the trainer will check understanding and involvement of all students throughout the duration of the course.
Certification: On successful completion of the course students will receive a certificate of attendance which is valid for 12 months.
Onsite Training
This Fire Marshal | Fire Warden training course and all of the courses in our portfolio can be delivered onsite in most cities and surrounding areas in England, Wales and Scotland including:
Aberdeen | Bangor | Bath | Birmingham | Bradford | Brighton and Hove | Bristol | Cambridge | Canterbury | Cardiff | Carlisle | Chester | Chichester | Coventry | Derby | Dundee | Durham | Edinburgh | Ely | Exeter | Glasgow | Gloucester | Hereford | Inverness | Kingston upon Hull | Lancaster | Leeds | Leicester | Lichfield | Lincoln | Liverpool | City of London | Manchester | Newcastle upon Tyne | Newport | Norwich | Nottingham | Oxford | Perth | Peterborough | Plymouth | Portsmouth | Preston | Ripon | Salford | Salisbury | Sheffield | Southampton | Stirling | St Albans | St Davids | Stoke-on-Trent | Sunderland | Swansea | Truro | Wakefield | Wells | Westminster | Winchester | Wolverhampton | Worcester | York
Onsite Training Locations
Tidal Training provide onsite face to face healthcare training to large and small group organisations and across the United Kingdom. Our tutors will travel to your workplace or choice of venue and deliver training at a time and date which fits in with your organisations work commitments. If you require training outside of normal working hours we will be more than happy to support you.
Make an Enquiry
Use the form below to contact us today for more information on our courses and to get a free no obligation quote. We'll respond within 2 hours (usually sooner).
Prefer to Talk?
Talk to our team of experts for more info and pricing.
Onsite Training for Fire Marshal Training | Fire Warden Training
Fire Marshal Training | Fire Warden Training courses and all of the courses in our portfolio can be delivered onsite in most cities and surrounding areas in England, Wales and Scotland including:
Aberdeen
Bangor
Bath
Birmingham
Bradford
Brighton and Hove
Bristol
Cambridge
Canterbury
Cardiff
Carlisle
Chester
Chichester
Coventry
Derby
Dundee
Durham
Edinburgh
Ely
Exeter
Glasgow
Gloucester
Hereford
Inverness
Kingston upon Hull
Lancaster
Leeds
Leicester
Lichfield
Lincoln
Liverpool
City of London
Manchester
Newcastle upon Tyne
Newport
Norwich
Nottingham
Oxford
Perth
Peterborough
Plymouth
Portsmouth
Preston
Ripon
Salford
Salisbury
Sheffield
Southampton
St Albans
St Davids
Stirling
Stoke-on-Trent
Sunderland
Swansea
Truro
Wakefield
Wells
Westminster
Winchester
Wolverhampton
Worcester
York
Wherever you are!